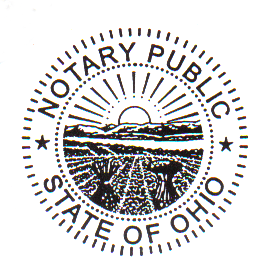 Notary public service is generally available during the Girard Free Library's regular hours.  However, please call 330-545-2508 ahead of time to ensure that a qualified staff member is present.  The service is free, but a donation to the Friends of the Girard Free Library is suggested.
The document signer must bring a valid, government-issued ID and sign in the presence of the notary.  Complete all information above the signature prior to notarization. 
Witnesses will not be provided by the Library, nor can they be solicited from Library patrons.  The witness must personally know the person whose document is being notarized and must be in possession of a valid photo identification.
Some requests require expertise beyond our capabilities. Examples of documents that the Library will not notarize include:
Real estate transactions
Corporate documents
Last will and testaments
Living wills
Living trusts
Codicils or depositions
Power of attorney
Documents which require an electronic signature
Documents in a foreign language
Foreign passport or visa applications
Our notaries reserve the right to refuse a request if the customer, document, or circumstances of the request for notary service raise any issue of authenticity, ambiguity, doubt, or uncertainty for the Library.